This switch is located at Channel>Channel Settings>Amazon Settings tab.
When this switch is enabled, you can set which price-types will be updated on Amazon.
If you select the checkboxes for all price types after enabling the switch, all price fields will be sent to Amazon when you sync the channel or scheduled price updates.
There are six types of price flag types that you can check/uncheck: Standard Price, Sale Price, Volume Price, Min/Max Price, Business Price and MAP price.
You can always choose these prices separately if you want to update a specific price of your products.
Also within this section of the platform, you can also choose a Price Update Method -see the screenshot below.
Select "Partial Update" to update your product price or select "Replace" to remove your product price and replace it with the data you provided in SA.
If you are unsure which is the best option for you, please leave this set to "Partial Update" and get in touch with us.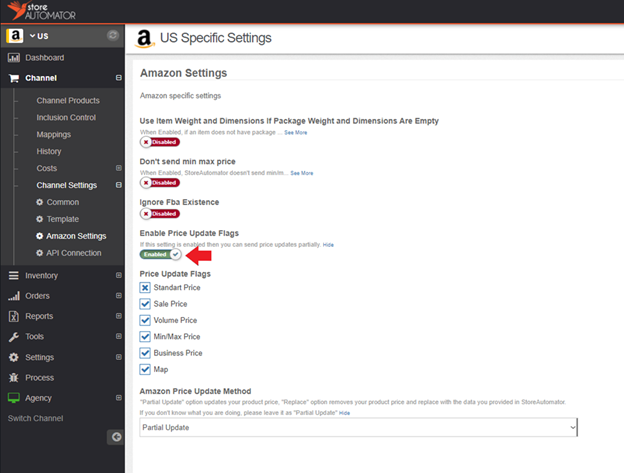 IMPORTANT NOTE: These settings will be applied to all products with the price update on.