Store Pick up option is available in Shopify
We are pleased to announce that StoreAutomator has implemented the "Store pick up" option for Shopify. Once you enable the Store Pick up option in your Shopify store and also enable the switch located at Channel>Channel Settings>Shopify settings in Order Settings tab in your StoreAutomator account, you are good to receive store pick up-able orders.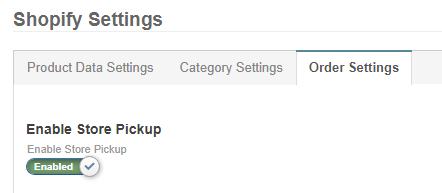 Normal Operation
Normally, when you receive an order from Shopify, it comes to StoreAutomator and the quantity is deducted from inventory and the order address is sent to your shipper to obtaining shipping costs and label printing. This does not change if you have multiple warehouses, connected to both StoreAutomator and Shopify; the order will be forwarded to the applicable warehouse, reduced from the warehouse inventory list and that warehouses' shipstation account to be picked up, packed, labeled and shipped.
Store Pick Up Operation
An order's Store Pick up status starts from the sales transaction; usually at checkout, your customer marks the order to be picked up from a definite location, in an effort to not to pay shipping and handling fees, if the pick up location is close enough to their home or work. Shopify registers the order as to be picked up from a location, cancels charges for shipping fees and sends the specific store location address to StoreAutomator instead of Customer's shipping address. At this point StoreAutomator reserves the SKU in that location until further notice and marks it as "unshipped" and "to-be-picked-up"at the same time. The order and the SKUs are now reserved and will neither be sent to Shipstation or any other shipping solutions, nor appear in the "orders-awaiting-to-be-shipped" lists. The items will be kept reserved until Shopify cancels the pick up order, if the customer fails to pick it up for some time, as per your shop policies.
Store pick up is useful for you, as it gives your customers the benefit of visiting your store, seeing your operations, chatting with you and your employees and mostly, it allows you to develop a personal relationship with your customers. Also they don't pay shipping handling charges which might be the major reason they choose this service; so it is a win win situation for both parties.