This switch is located at the Channel>Channel Settings>Common>Orders tab.
Enabling this switch will forward all orders that are received from the channel to other applications or your Shopify store. You can select the forwarding target place from the drop-down menu.
Use this option with caution as it will forward all orders to this merchant for fulfillment.
You can find the complete order receivers from Settings>Carrier tab. Also, you can ask for tracking numbers from the merchants by checking the "Remote Order Id Source". You can choose the remote order key by selecting one of "Default", "Source Order ID", or "Reference Order Number" options. You can use this:
If you don't have a warehouse of your own and fulfilling orders through other merchants,

Or you use another software to fulfill your orders within your warehouse,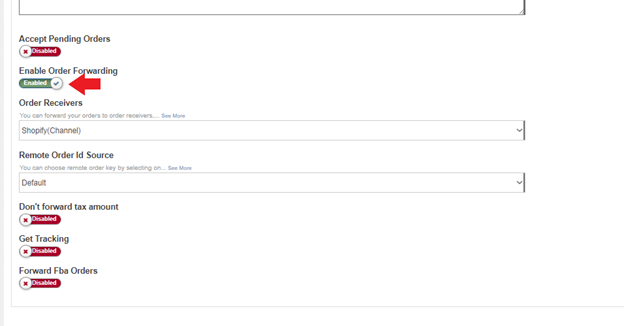 You can also not send tax amounts to the merchant or get tracking by activating the related switches.
IMPORTANT NOTE: The below switches will be opened if you enable the Enable Order Forwarding switch.