Deliverr Inventory Manager
Deliverr inventory manager supports quantity imports, order forwarding and tracking number imports.
Deliverr Setup
Deliverr itself acts as a client, not a server, which means Deliverr connects to StoreAutomator to receive orders and send tracking numbers and item quantities.
To set up a Deliverr inventory manager, click Inventory > Suppliers on the left pane then add "Add Supplier" button on the top right.


Once you have created Deliverr inventory manager, click "Edit" button to manage your Deliverr integration. Click the "Settings" tab then click "Show API Credentials"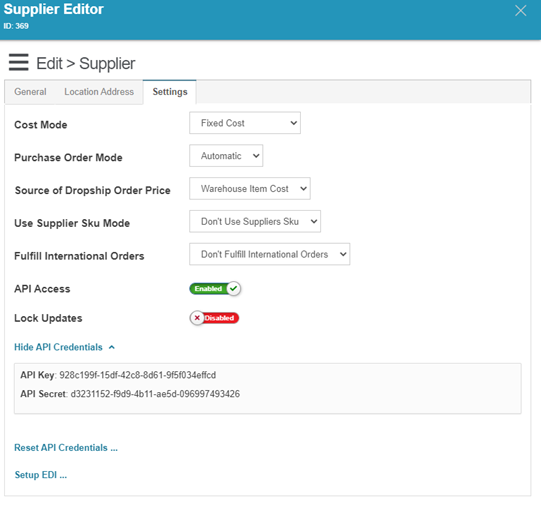 Enter the API credentials into your Deliverr account to complete the integration.
Deliverr needs to know which items are needed to manage by Deliverr.
To manage items, click Inventory > Warehouses then click "Open" icon and add inventory items to this warehouse.
When an item from Deliverr warehouse is sold through any marketplaces or shopping cart, the order is picked up by Deliverr, fulfilled and a tracking number is sent to StoreAutomator.
The quantity is also adjusted (reduced). If you want to pass the orders to Deliverr automatically, set the supplier setting "Purchase Order Mode" to "Automatic", otherwise, a user intervention is required to create an order for Deliverr.