Selecting Channel Taxonomy by Channel
You can use this feature to assign a unique category tree (category taxonomy) to each of your channels. Your local category tree does not have to be used for your channels.
What you must do is as follows:
Go Inventory> Category and Create a New Taxonomy which is the similar process of creating your main category. Please see the article: Create a Category
The only difference is that you will click "+New Taxonomy" and keep adding by giving a new name for those taxonomies. And adding categories, subcategories have exactly the same steps.

Go Channel> Channel Settings>Common and hit the "General Tab"

Select your specific taxonomy from the pull down menu of Channel Taxonomy.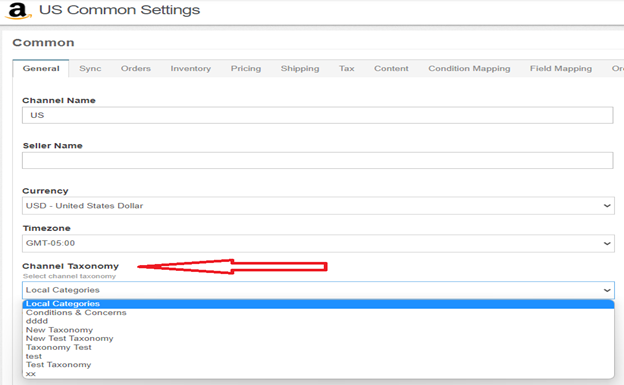 Choose the taxonomy you've created for the channel from the dropdown menu and save the settings.
IMPORTANT NOTE: By default, the channel taxonomy for all channels is "Local Categories". If you don't want to change the current category, please leave it as "Local Categories".
Assign a category for your channel items from the channel selected taxonomy.
When you assign a category to your item from inventory level, you also have to define a category from your new taxonomy which will be the selected taxonomy for the channel that you want to use. So, this new taxonomy will be used in place of the local category in your channel. If you skip this step, even if your channel items are mapped to a local category, the category field will be sent empty because of the selection at the channel level. Selecting at channel level will reflect for all items in your channel which means that you must map a category from the selected taxonomy, otherwise you may receive a missing category error message.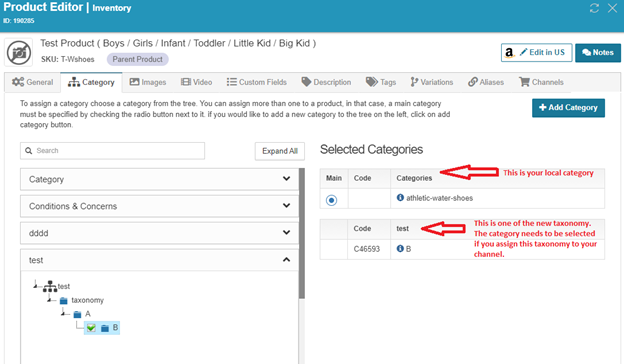 You should also consider mapping the remote categories for the new assigned taxonomy for the selected channel after changing the channel taxonomy setting. You can do that from "Mappings>Categories" by matching the remote categories to local categories.
Mapping Categories to Remote Categories
IMPORTANT NOTE: You need to assign new categories for the product in your channel because, after assigning a new taxonomy for the channel, they won't be using the previous taxonomy. However, the previous taxonomy won't be deleted and can be restored if you decide to use the previous channel taxonomy.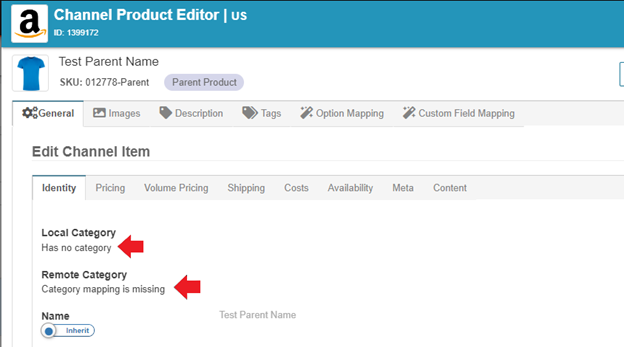 You can assign the categories from bulk or using the SA interface.