How to remove, retire, or archive a SKU in your Walmart Seller Center through StoreAutomator?
There are several reasons why you might want to retire a SKU in your Walmart Seller Center. Perhaps you no longer want to sell this brand to Walmart. Maybe you have a different SKU using the same UPC and need to retire this SKU.
Walmart only allows one SKU per UPC in Seller Central. So, if you already have a SKU in your Walmart Reseller Center for a particular UPC, you'll want to remove that SKU to list another SKU with the same UPC.
Also, If you've seen an error from Walmart for a SKU that you're trying to list that says, "Unable to complete the product data setup process. Unable to override sku because there exists another source product from the same seller/org id.", do not worry, Store Automator is here to fix the problem!
Retire a SKU from Walmart
It's easy to retire any SKU at Walmart Seller Central via Store Automator. All you have to do is exclude the relevant SKU from the Walmart channel.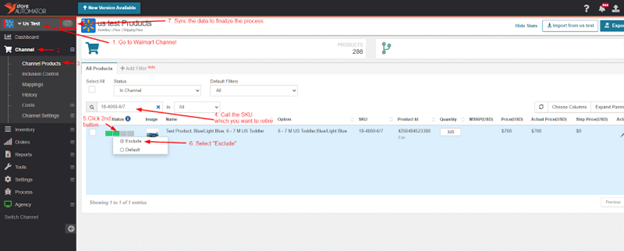 Go to Walmart Channel

Select "Channel"

Go to "Channel Products" under Channel

Call the SKU which you want to retire

Click second green button which shown on the image above

Select "Exclude"

Sync the data to finalize the process
How to exclude multiple SKUs from the channel? Refer to the link below.
Bulk Inclusion and Exclusion of Products in Specific Channels