StoreAutomator allows you to download a variety of eBay reports, which can provide you with valuable data and insights for your eBay channel. This guide will walk you through the steps to download eBay reports using StoreAutomator.
Step 1: Accessing eBay Reports:
Navigate to the eBay channel section
Click on the "Reports" tab
Select the "Request Reports" option under the eBay tab

Step 2: Selecting and Downloading the Desired Report:
The list of available eBay reports is shown below:
Associated Seller Standards Profiles
Current Metrics for Item not as Described (INAD)
Current Metrics for Item Not Received (INR)
Projected Metrics for Item not as Described (INAD)
Projected Metrics for Item Not Received (INR)
Locate the "Action" column corresponding to the desired report and click on the "Download" button.

Step 3: Choosing the Report Period:
After clicking the "Download" button, a new pop-up window will appear.
You will have two options: "All time" and "Choose Period."

"All time" will provide the report for all available data up to the current date
Selecting "Choose Period" will present four options in the dropdown menu: "Last Week," "Last Month," "Last Year," and "Custom Range."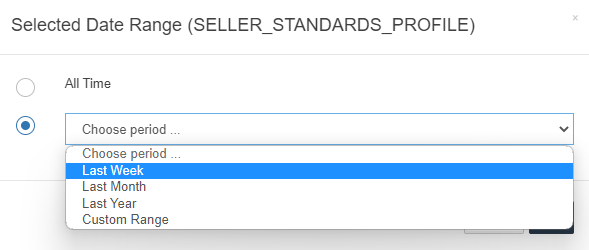 If you choose "Custom Range," you will be prompted to select a start and end date for the report.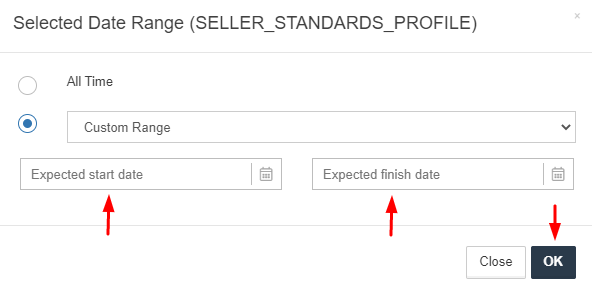 Step 4: Confirming and Generating the Report:
Once you have made the appropriate selections, click the "OK" button.
StoreAutomator will begin generating the report based on your chosen criteria.
A notification will notify you, indicating that the report is ready for download.

StoreAutomator simplifies the process of downloading eBay reports, allowing you to gather and analyze important data related to your eBay channel. By following the steps outlined in this guide, you can easily request and download reports to gain insights into your eBay performance and make informed business decisions.