If you need to send customized information, creating a template in SA will help. A default template will have been created automatically when you set up your Walmart channel for general use. You can also create your own new template. The purpose of doing so is to send your customized data to Walmart and map it to the correct required field, according to the channel guidelines.
Click here to learn about how to create a template.
After creating the template, the next step is to map all your fields.
Follow the steps below to set up your template mappings:
1- Click on All Channels on the left upper corner and select your Walmart channel
2- Go to Channel>Mappings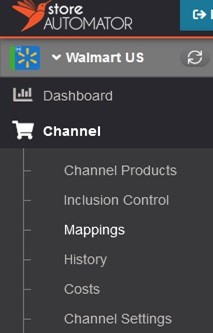 3- Start mapping each of your local categories to the templates it belongs to on the right side of the screen by dragging and dropping the local category to the template. Your work will be saved automatically.